District Profile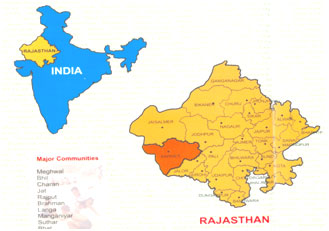 Barmer
The Barmer district extends from 70050' to 72052' East longitude and from 24058' to 26032' North latitude. It is situated in the south western corner of the Rajasthan and is a parts of Thar Desert. It is surrounded by Jaisalmer district in north, Jalore in south, Pali, Jodhpur in the east and Sindh province of Pakistan in the west. Barmer is one of the oldest habitations of the Indian Thar. The administration is exercised through 14 Tehsils and 17 Blocks namely Sheo, Baitu, Pachpadra, Siwana, Gudamalani, Barmer, Ramsar and Chohtan and 479 gram panchayat. It has 2479 villages. The population of this district as per the census 2001 was 19,63, 758 ( M 10,35,813, F- 927,945 ) Gender ratio is 896 female/ 1000 male. The population density of the district is 69 per Sq. Km. The literacy percentage is 59.65 (male – 73.64, female – 43.91). District per capita income is just Rs. 2824, contribution of Barmer district in the total income of the state is as low as 2.5% status of livelihoods is also very poor. Education level is even worse as district is on the bottom.
Agro Climatic Zones IA (Arid Western Plain)
| S.N. | Agro-Climatic Zone | Characteristics |
| --- | --- | --- |
| 1 | 1 (A) Arid western plain | Arid western Plan Zone 1-a of Rajasthan state has cultivated area of 27 m ha which is 53% of the geographical area. Sand dunes and desrt soils occupy major area in the zone. There are aeoline soils and loamy fine to coarse and calcareous at places. Rainfall in the zone ranges from 200 mm in the west to about 370 mm in the East and occurrence of drought is not unusual feature. The zone covers four of six tehsils of Jodhpur (Phalodi, Shergarh, Osian and Jodhpur) and all tehsils of district Barmer. Pearl miullet is the predominant crop of the zone followed by cluster bean and moth bean. Sesame and green gram are other important kharif oilsed and pulse crops, respectively. Only 7 per cent cropped arera is under irrigation. Cumin rapeseed & mustard wheat and Isabgol are major crops grown in rabi season. |
Agro Ecosystem
S.N.
Agro Ecological Situation
Characteristics
Blok Covered
1
AES-1
Flat older alluvial plain with coarse textured shallow to moderate to deep sandy soil with scattered hummocks and gravelly pediments.
Average rainfall 200-250 mm.
Mono-cropping cultivated in rotational intensity 20-60%
Sheo
Baitu
Barmer
2
AES-2
Sand dunes with inter dunal plains, soil associated with dune complex
Average rainfall 175-250 mm
Mono-cropping cultivated in rotational intensity 30-80%
Dhorimanna
Chohtan
Barmer
Sindhari
3
AES-3
Flat older alluvial plain with coarse textured deep soils followed by medium to fine textured deep soil.
Average rainfall 275-350 mm
Mono-cropping cultivated in rotational intensity 60-100%
Balotara
Siwana
Sindhari
Agriculture and Allied Census
Area, Production and Productivity of Major Crop
| S.N. | Major Crops | Area (ha) | Productivity (q/ha) |
| --- | --- | --- | --- |
| | Kharif | | |
| 1 | Pearlmillet | 900000 | 350 |
| 2 | Moong | 60000 | 600 |
| 3 | Moth | 325000 | 350 |
| 4 | Guar | 400000 | 350 |
| 5 | Castor | 35000 | 900 |
| 6 | Til | 7000 | 500 |
| 7 | Ground Nut | 2000 | 600 |
| 8 | Sorghum | 2000 | 1200 |
| | Rabi | | |
| 1 | Wheat | 14020 | 1017.12 |
| 2 | Barley | 4 | 1000 |
| 3 | Gram | 1209 | 999.17 |
| 4 | Mustard | 21571 | 1040.93 |
| 5 | Taramira | 5051 | 688.58 |
| 6 | Cumin | 134512 | 496.89 |
| 7 | Isabgol | 62134 | 734.57 |
Live Stock Census (2012)
| Name of Animal | Population |
| --- | --- |
| Cattle | 788366 |
| Buffalo | 214168 |
| Sheep | 1404031 |
| Goats | 2896620 |
| Pigs | 261 |
| Rabbits | 193 |
| Poultry | 17348 |
| Camel | 43129 |
| Horse | 2591 |
| Donkey | 17495 |
| Null | 28 |
| Dog | 32208 |
Major and Micro Farming System : Animal Husbandry based Agriculture
Crop Production
Kharif Season
Bajra (Pannisetum gluacum ), Jowar (Sorghum bicolor), Maize (Zea mays), Mothbean (Vigna acontifolia), Moongbean (Vigna radiata), Guar (Cyamopsis tetragonaloba),Castor (Ricinus cuminus), Sesamum (Sesamum indicumm), Groundnut (Arachis hypogea)
RabiSeason
Wheat (Triticum aestivumm), Barley ( Hordium Vulgare) ,Mustard (Brassica juncea), Taramira (Eruca sativa), Cumin ( Cuminum cyminum ), Isabgol (Plantago ovata )
ZaidSeason
Summer Bajra
Arid Fruit Production
Ber (Zizyphus mauritiana ), Aonla (Amblica officinales), Gonda (Cordia mixa), Kair (Capparis decidua ), Anar
Kharif
Brinjal (Solenum melongana) ridge gourd (Luffa liacutanagula) tinda (Cirtullus vulgaris), long melon (Cucumis melo var, utilissimus ) bottle gourd ( Lagenaria siceraria), Kachri (Cucumis callosus), lady finger (Abelmoschus esculomtus)
Zaid
Long melon (cucumis melo) ridge gourd (Luffa acutangula), amaranthus (Amaranthus (Amaranthus tricolor) Snap melon (Cucumis melo var. momordica)
Rabi
Onion (Allivm cepa ) Radish (Raphanus sativus) Carrot ( Daucus carrota ), Beet leaf (Beta vulgaris), Chillies (Capsiam annum), Cabbage (Brassica oleracea) Var. Capitata), Coriander (Coriandrum sativum )
Major Production System
Jaal /Peelu ( Salvadora persica ), Mithi jaal (SalvadoraOleoides), Meethijal ( Acacia Senegal), Kummat (Accacia Senegal), Khejri (Prosopis cineraria), Rohida (Tecomella undulata), Kair ( Capparis Decidua ), Jharberi (Zizyphus numularia), Babool(Acacia tortilis), Vilayati babool(Prosopis juliflora), Fog (Calligonum poly gonoides)
Common Grasses
Sewan Grass ( Lesiurus sindicus),Anjan / Buffelgrass( Cenchrus ciliaris), Dhaman / Birdwood grass( Cenchrus setigarus), Bharut ( Carchrus biflorus), Lampra (Aristida funiculata ), Bekaria ( Indigophora Cordifolia).
Natural Fauna
Sambhar, Buck, Reflux, wild dog, desert fox, commen Indian Birds- crow, sparrow, pigeon, Nyna, blue joy, hoppow, bulbul, Robin, Indian Bustard sand grouse.
Minerals
Input minerals produced in the district are bentonite, gypsum, siliceous, salt etc.
Industries
Textile, printing by blocks, oil industries, Dying & weaving, shoe making, pottery, Ghee making etc. Export articles from district are salt, dyed & printed cloth, Gypsum, Bentonite, Wool & Ghee.
Major Production System
Bajra Based (Bajra, Moong Bean, Moth Bean, Guar – Cumin, Isabgol, Mustard)
Constraints in Agricultural Production
The vital problem which the farmers have to face very often is to keep the crop plants alive and to get some economic returns. The following have been realized as the major constraints in agricultural production in Barmer districts.
Unfavorable weather condition
Water scarcity is a serious problem of this region. The rains are very erratic, uncertain and unevenly distributed. There is a possibility of goods rainfall after 3-4 years internal. A 100 year rainfall data shows that there was 61 times famine in last 100 year out of which were 24 Severe famine and were medium famine.
Abnormal Soil condition conduction
Undulated soil are affected by soil erosion soils are poor in fertility condition, low WHC and organic matter. Salinity problem is also found in Balotra, Siwana block.
Seed Constraints
Inadequate availability, poor quality seed, high price and untimely supply.
Agronomic constraints
Improper sowing time, inadequate seed rate, defective method of sowing, inadequate, intercultural operations, insufficient irrigation, less use of organic manure and fertilizers etc.
Plant protection constraints
Farmers do not adopt plant protection measures.
Lack of proper water harvesting technology
Poor socio economic condition of farmers
Poor marketing of the produce.
Larger holding size and wide spread of villages
Miscellaneous constraints
Lack of electricity supply.
Lack of credit in time
Lack of appropriate machinery
Poor storage and processing facilities
Sustainable Development of Agriculture in Barmer District
Soil and Water Conservation
Wind erosion control, Wind break & shelter belt, Cover crops, Crop rotation, mulching etc Moisture conservation. Efficient use of available water by use of sprinkler & drip irrigation system, Organic manure, Deep tillage, Organic matter etc.
Water Harvesting
Farm pond, anicut, water harvesting cum check dam, water diversion & spreading (traditional khadin), roof water harvesting. Traditional water harvesting structure Tanka, Nadi, Pond, Hohad, anicut etc.
Soil Fertility Management
Promotion of integrated nutrient management practices by using compost, vermi compost, NADEP compost, biofertilizer etc, Deep ploughing in suitable field only, Growing of legumes, Soil and water testing
Improved Package of Practices for Dryland Crops
Management of Pasture Land
Development of oran & gochar land
Establishment of small pasture land at individual farmer's land
Suitable grass – Sewan grass, Dhaman grass
Fodder trees- Khejri, Ber, Babool, Siris, Neem, Kummat
Establishment of Arid Fruit Orchard
Ber, Aonla,Gonda, Leshwa,Kair, Pilu
Cultivation of Medicinal Crops
Gugal, Sonamukhi, Aloe, ashgandh etc.
Alternate Land Use Systems
For arable lands
Agro horticulture system e.g. Ber with moongbean / mothbean / guar
Agri-silviculture system (inter cropping with NFT'S)
For non arable lands
Pasture development
Tree farming e.g. Kummat, Rohida etc.
Value Addition and Post Harvest Management
Collection & processing of – Ker, Sangri, Kummat, Kachari, Tumba, Watermelon seed etc., Pilu Sharbat, ber candy etc.
Promotion of Income Generation Activities
Kummat gum farming,Ber budding
Establishment of agro based industries
Gum factories, Isabgol processing Unit, Castor Oil Expeller, Moth based papad, Dal, Bhujia , Mangori (Nugget), Vada etc.
Management of saline soil and water
Establishment of Seed Bank and SeedVillage.
Promotion of bio fencing
Cactus, sagargota, ber, karonda etc